The Ste. Genevieve Herald Online is a capsule edition of the hardcopy Herald, published weekly in Ste. Genevieve, Missouri. See our subscription page for subscription rates for home delivery of the hardcopy Herald.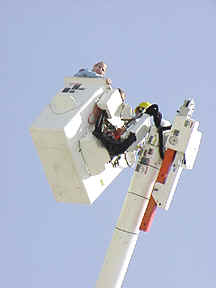 CEC Sponsors Safety Days For Local Kids
Fourth graders probably don't think about how electricity gets into their homes, as long as it's there when they want to use computers, TV sets and other items. Last Thursday, Citizens' Electric Cooperative employees in Ste. Genevieve gave students a glimpse at how they handle electricity correctly at a safety day program held at the cooperative's service department. Denise Bleckler, communications and public relations director for the Ste. Genevieve office, said 230 students and 42 adults were on hand for the demonstrations and lunch. Students and teachers from Ste. Genevieve, Bloomsdale, Valle Catholic, St. Agnes, St. Joseph (third and fourth grade) and Sacred Heart schools were at the event. Students watched safety videos, but they also got a closer look at some of the tools , vehicles and equipment CEC employees use when they work with electricity. They donned hard hats, pulled on rubber gloves, strapped on tool belts and tried to keep a 'hot stick' under control. In one demostration, they saw electricity arc in a 'jacob's ladder' and learned what happens when ladders and other materials that conduct electricity get close to power lines and transformers. "The bucket truck demonstration was very popular," Bleckler said. A few students from each school were picked at random for a ride in the bucket. Even though it was extended to 55 feet, those who got the ride cheered and yelled as they went up in the bucket. Bleckler said this is the first time CEC put on a safety day program for students at its service departments. In October, CEC put on a program for Altenburg School District students. Another safety day program will be presented to Perryville students this spring. "In the past, we used to put on safety programs for fifth-grade students in the schools, but it took a lot of legwork," she said. "We use a miniature model of a substation that's connected to a home for one of the demonstations. "But we had to haul it in a trailer. It's as big as a coffin, so it wasn't possible for just one person to set it up and give the demonstration." That's when Bleckler began asking how other cooperatives handled school presentations. "That's how we came up with the idea of inviting students to the service centers for the safety programs," she said. Groups of students made 20-minute visits to each of the four "demonstration stations" in the service center building and parking lot. Blecker said 24 CEC employees acted as hosts, tour guides and demonstration presenters for the students. "Safety day would not be the success that it was without their help," Bleckler said. "We got quite a bit of positive feedback on the program, so we're planning to do another one next year."



Butterfly House Staff Will Migrate Here For Garden Event
The Sophia M. Sachs Butterfly House and Education Center will migrate to Ste. Genevieve next month, with a butterfly gardening display, information and activities sure to engage the imagination. The visit will take place during Ste. Genevieve's annual Garden Walk and house tour weekend, May 5 and May 6. The Butterfly House is located in Faust Park in west St. Louis County. It features thousands of butterflies in natural habitat, plus stimulating opportunities to learn about butterflies. Butterfly House Curator of Horticulture Stacy Rozier and her staff will set up in Ste. Genevieve's Lions Park. They'll have the latest information about butterfly gardening and native butterflies, and will be offering visitors an opportunity to win something special for their own butterfly gardens. "Butterfly gardening is an amazing form of gardening," Rozier says. "Planting and maintaining a butterfly garden offers several benefits. Not only are the gardens beautiful but they attract magnificent butterflies. The flowers and plants provide the necessary food for butterflies and caterpillars, which helps this wonderful animal complete its life cycle." The Butterfly House is open daily from Memorial Day through Labor Day, operating from 9 a.m. to 5 p.m. Presently, the house is open Tuesday through Sunday, from 9 a.m. to 4 p.m. Admission is $5 for adults, $4.50 for seniors, $4 for children age four through 12. Children under age three are admitted free.



Annual Life Banquet Drew 200
Ste. Genevieve Citizens for Life held their eighth annual "Celebrate Life" banquet on Thursday, April 19, at the Ste. Genevieve Knights of Columbus Hall, beginning with dinner prepared by The Sodality of Mary from the Church of Ste. Genevieve. A crowd of over 200 people heard the Pro Life address of Rev. Gregory Schmidt, presently pastor of Immaculate Conception Parish in Old Monroe, Missouri. Organizers say Schmidt offered a chronology of how the American feminist movement evolved from a Pro-life perspective into a movement which he says cooperates with the abortion industry. Entertainment included music by Les Petits Chanteurs, Dean Bader, Dan Kennedy, Lee Webb, Robin Naeger, Kim Rodamaker, and Patti Neathery. Katie Kirchmer, a Valle High School student participant in the "Life Matters" pilgrimage, thanked the group for their help and support in making the pilgrimage to Washington D.C. possible. Cindy Shuh and Margaret Klein prepared a special display of the trip. The evening concluded with the announcement of raffle winners. Ste. Genevieve Citizens for Life plans to donate the money raised to various pro-family organizations in the area.
COMMUNITY CALENDAR

LIBRARY DONATIONS SOUGHT
Friends of the Library are accepting donations of used books for a book sale May 26 at the Orris. Donated books can be dropped off at the library. Call Becky at 483-3057 with any questions.
HOSPITAL AUXILIARY MEETS
The Ste. Genevieve County Memorial Hospital Auxiliary meets April 24 at 6:30 p.m. in the hospital cafeteria.
BEGIN AGAIN MEETS
The Begin Again New Outlook Program for the Widowed potluck dinner and meeting is April 24 . The 6 p.m. program will be a short version of the Valle High School Drama Club's play, The Odd Couple.
JOUR DE FETE COMMITTEE MEETS
The Jour de Fete Committee meets April 25 at 7:30 p.m. at the Hotel Ste. Genevieve.
ADULT BASIC ED CLASSES WIND UP
Adult Basic Education classes are in their final weeks, with this session ending April 26. Classes meet Tuesdays and Thursdays, 6 p.m. to 8 p.m., at the vocational building at Ste. Genevieve High School. Classes will resume again in September. Call 883-5720 for more information.
ELKS 'SAFE NITE' PARTY PLANNED
The Ste. Genevieve Elks Lodge hosts a 'Safe Nite' party for kids in grades three through six on April 27, from 6 p.m. to 9 p.m. The drug-, alcohol- and violence-free event i ncludes free food, games, prizes and fun.
SMITHSONIAN EXHIBIT, FREE SCI-FI FILM SERIES END THIS WEEKEND
The final showings of the free sci-fi film series being offered in conjunction with the Smithsonian Institution's traveling exhibit show up this weekend, at 7 p.m. on Friday at the Great River Road Interpretive Center. The last day to see the Yesterday's Tomorrows exhibit is April 28.
ANNUAL PRAYER MEET SLATED AT CITY HALL
The tenth annual "Meet at City Hall" prayer day, sponsored by the American Family Association and Ste. Genevieve Citizens for Life, will be May 3 from 12:20 p.m. to 12:40 p.m. at Ste. Genevieve's city hall. For more information call Kenny Williams at 543-2933.
HOME AND GARDEN TOUR WEEKEND PLANNED
Ste. Genevieve hosts its annual Home and Garden Tour on May 5 and May 6, featuring special events and tours of seven gardens and several historic homes.