The Ste. Genevieve Herald Online is a capsule edition of the hardcopy Herald, published weekly in Ste. Genevieve, Missouri. See our subscription page for subscription rates for home delivery of the hardcopy Herald.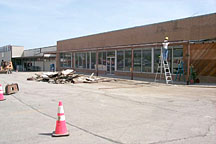 SHOPPING PLAZA FACE LIFT
The old canopy that fronted stores in the Pointe Basse Plaza shopping center came down last week, part of the renovation project undertaken by Golden Management Inc. Work continues on the new Country Mart grocery store at the northwest end of the strip mall.


Hope Meadows Will Be Sold To Private Developer, Or Wind Up On Auction Block Next Month
In the aftermath of the 1993 flood, a small group of volunteers organized themselves under the optimistic name "Build Up Ste. Genevieve." Their intention was simple: to aid flood victims, especially those who had lost their homes to the river. Over a period of months, the group developed into a coalition of churches, service groups, individuals and organizations from the local community and from outside the area. Its growing strength allowed Build Up to mount an impressive effort to meet the needs of flood victims, coordinating a wide range of volunteer efforts, ranging from providing short-term rent supplements to some flood victims, finding hosts for the crews of volunteers who came to help deal with the aftermath of the 49-foot-plus crest, to offering special programs for children whose families had lost their homes to the river. In its first year of existence, the private, not-for-profit organization assisted at least 100 families and, cooperating with organizations like the Salvation Army, relocated 20 households. Some 2,000 volunteers worked with Build Up during that period, logging 17,500 hours in flood recovery work. And Build Up lived up to its name. It erected three brand new houses for people displaced by the flood. A small army of carpenters, plumbers, electricians, and countless people with the will to work cleaned up and repaired numerous flood-ravaged homes and renovated damaged dwellings. Much of the work was done by volunteers, most of the wherewithal to do it was donated, but when necessary Build Up provided funds to pay contractors for necessary plumbing and electrical work for people who did not have the financial resources to make repairs that would allow them to reoccupy their homes. In addition, the organization helped families relocate by assisting them with security or utility deposits, and helped some by supplementing the money they had available for down-payments or the purchase of building lots. By the fall of 1995, the organization had spent almost $200,000--financed by donations from private individuals and organizations such as churches and charitable groups--to aid flood victims. But the Mississippi had left a permanent mark on Ste. Genevieve. Through actual flood damage and proffered buyouts, the 1993 flood accounted for the loss of over 100 dwelling units in the City of Ste. Genevieve, mostly moderately-priced homes and rental units in the north part of the city. Recognizing the need to replace that affordable housing, in 1995 Build Up undertook a plan to replenish the city's stock of moderately-priced homes. Before the end of that year, the group had obtained an $80,000 grant from the Interfaith Disaster Relief Fund for the purchase of 7.7 acres of land, perched on a bluff north of the VFW Hall. Eventually, Build Up created the 18-lot Hope Meadows Subdivision there. By this time next month, that most important part of the Build Up dream will be over. The idea of a not-for-profit development offering building lots and other assistance to low to moderate-income home buyers will be gone, as surely as if it had been washed down river by the raging Mississippi. The organization has signed a contract with a private developer for the purchase of the 15 lots remaining in Hope Meadows. And if that deal should fall through, the lots will be sold to the highest bidder on the courthouse steps on May 21. The notice of a trustee's sale was slated for publication in this week's Herald. The auctioning of the lots was intended to settle the organization's $220,000 debt to the USDA Rural Development Program, which had provided financing for development of the subdivision. The ad was pulled Monday morning and foreclosure proceedings were stopped. On Sunday night, Build Up president Dan Abt told The Herald that the foreclosure can be avoided by the contract deal. He would not disclose the selling price, but said it is sufficient to pay off the loan debt. "We had placed the property with Tlapek Realty to try to sell the lots so that we could avoid foreclosure," Abt said. "On Saturday, this contract was signed. USDA still has to okay the sale and it is contingent on the buyer securing financing, but we are very optimistic that it will go through within a month. If not, I guess it will be foreclosure. But the contract sale is the better route because foreclosure could delay further development at the subdivision." Either way, Build Up will be out of the subdivision business. How did Build Up wind up in default on the USDA loan? What went wrong with the dream? Kevin Hinkebein, head of the USDA Rural Development Program in this area, told The Herald last Thursday it wasn't a lack of effort or good intentions on the part of Build Up Ste. Genevieve. "The people who were involved with Build Up Ste. Genevieve deserve a lot of credit," Hinkebein said. "They worked hard to try to help people who were flooded out. They put a lot of effort into something that would never get them anything personally, because they wanted to help people who needed it, and had the vision to see how that could be done. That vision was Hope Meadows. " Hinkebein said his agency thought the idea for the Hope Meadows Subdivision was so good that in 1997 Build Up got one of the first USDA loans for such a project awarded in Missouri in the last 30 years. The sale of the lots would have paid off the debt, and both Build Up and Hinkebein's agency anticipated that happening well within the two-year time frame for the loan. But the project was plagued with problems. "We broke ground in March 1997. But what happened was that the group wound up spending the first two years just satisfying requirements set by the City of Ste. Genevieve," Hinkebein said. "They didn't even get their first building permit within those two years. Problems just kept cropping up." Hinkebein said one example was an incident that took place only weeks after the March ground-breaking ceremony. Build Up found itself confronted with a stop order from the Department of Natural Resources, which was worried that the hilltop site might contain Native American artifacts. The alarm had been sounded by the City of Ste. Genevieve's Landmarks Commission in its first-ever attempt to halt work on land earmarked for development because of the possibility of a Native American presence. Build Up's board put up a fight, pointing out that the organization had already cleared that particular hurdle, and had in hand a document from DNR giving it clearance. The matter was eventually resolved in favor of the organization, but not before time and money had been lost. But the problems and controversy were there from the outset. As early as the summer of 1995--even before money for the land purchase became available--objections were raised by some residents in the area who decided that a moderate-income subdivision in the neighborhood might devalue their own property. In addition, the residents expressed fears that Build Up would begin the project, but not be able to raise the money to complete it, and that some other developer would take over and put low-income housing on the site. Build Up's receipt of the loan money didn't allay those fears. And despite assurances from Build Up that the project would enhance, not hurt the neighborhood, the objections persisted. In November of the same year--probably partly as a result of political pressure from those opposed to the project and some legitimate questions about the subdivision design--the City of Ste. Genevieve's Planning and Zoning Commission turned down the preliminary plan for the subdivision and ordered its own engineer to review the study on which the plan was based. Build Up maintained that it had provided information and plans appropriate for a preliminary proposal; the city claimed there was insufficient information and that critical issues had not been addressed. The city won that round, refusing to approve the plan, delaying the project further. Throughout the first half of 1996, Build Up and the city continued to disagree about the adequacy of plans for the subdivision. A variety of issues continued to be raised, including the adequacy of stormwater retention systems and requirements for fencing retention basins. It was not until November 1998 that the subdivision was fully approved and accepted by the city. Most people watching the project felt that acceptance by the city would spur lot sales. It did not.Since the 1997 groundbreaking, only three lots have been sold. It may have been the ongoing controversy that stalled sales. It may have been that many of the flood victims who might have been eligible to buy and build under the terms of the USDA development loan simply couldn't wait long enough to get into the subdivision because of the repeated delays. The fact that Build Up had originally planned a development of $35,000 to $60,000 for a home, but wound up with a subdivision in which the homes would be in the $80,000 to $120,000 range, also probably played a role. Federal government restrictions on the income of those eligible to purchase lots also exacerbated the problem. Hinkebein said Build Up continued to try to make the project work, despite the roadblocks. But it never took off. Even loosening the requirements for purchasing the property and finally having a real estate company work on selling lots didn't help. "Whatever the reason the lots didn't sell; finally time just ran out," Hinkebein said. "We had to make plans for the foreclosure sale." The late-breaking deal with the private developer will forestall the foreclosure, if USDA officially approves the contract and the buyer gets financing. But that may not revive the Build Up dream. According to Abt, he has no information about what the potential buyers plan to do with the subdivision. He said he has met only one representative from the Illinois-based development group.While they will almost surely create a residential development, Abt says he doesn't know what kind of housing they have in mind. Once the developer owns the land, all the USDA restrictions regarding pricing, cost of homes, and income of the homebuyers will no longer be in effect. An up-scale, pricey development could spring up where Build Up planned to create housing for middle and lower class families. Carol Wibbenmeyer and Diana Kehoe, two local residents who were active with Build Up almost from the beginning, say it is a sad time for the organization. "I hate to see this happen," Kehoe told The Herald. "But we weren't selling lots. The federal guidelines for people to buy them are very strict. The people who really could afford to buy weren't eligible under the income guidelines, and the people who were eligible couldn't really afford to make the payments. Plus, Build Up had no funds left to manage the development. It felt like we were banging our heads against the wall." But Kehoe said despite the disappointment of having to give up the subdivision project, she feels Build Up accomplished a great deal. "The whole idea was helping people help themselves, and to get them to the point where they could also help others" she said. "One really good example was Dale Klump's family. They lost their house, and Build Up helped them get a building lot and construct a new one. For the whole rest of the effort, Dale and his family were out there working for other people. He was cochair of Build Up for a long time. They got some help, and gave a whole lot of help back." Wibbenmeyer said she also believes Build Up worked well on many levels. "We had countless volunteers and support from countless organizations--help from literally everywhere," she said. "It was an incredible experience. All that cooperation to try to aid flood victims. Hope Meadows was another way to try to do that. To try to help the whole community. It is sad that it didn't work out the way we'd hoped, but we can all be thankful that we accomplished as much as we did." Hinkebein says the Hope Meadows effort has even accomplished something for some of the people who opposed it. "There were problems and tensions with the city, but I really don't want to dwell on that," he said. "The fact is, the city will wind up getting the payoff. The City of Ste. Genevieve has a great asset because of Build Up Ste. Genevieve and all the volunteers who worked so hard on this project. This is a first-class subdivision site. There could be $250,000 homes going up on that hilltop. The city will get the property tax. So I guess it's some kind of success story. But Ste. Genevieve still needs affordable housing, just as it did after the flood. I guess not enough people cared about that. The people in Build Up did. They had the vision. I wish they'd had more support." Build Up president Abt said Sunday that it will take about a month for the deal with the private developers to be finalized. If something happens and it's not, the tax sale could still take place. He said he hopes the contract goes forward, because a foreclosure sale could delay development of the site. In general, he said he sees the contract sale as a positive outcome. "Ste. Genevieve needs housing," he said. "It is my hope that a private developer can go in and sell those lots to people who will build homes. The subdivision, will be good for the north part of the city and the downtown. Build Up always wanted to do something good." Whether or not the Build Up organization will continue to exist is open to question. Abt said he won't be available to take on any new projects with the group and he does not know what other members intend to do.



Columbine Anniversary, Rumors Prompted Some Parents To Keep Kids Home From School Friday
Parents came to school and pulled their kids out of class. Others simply kept them home for the day. Calls came into school offices demanding evidence that students were safe, but callers felt short of reassured by the answers they got. Students stirred the stew of rumors in hallways and on buses. Ste. Genevieve County was beset by fear and nervousness last week. So were many communities across the nation as the anniversary of the Columbine school shootings and Oklahoma City bombing converged. Add to that the birthday of Aldolph Hitler, a cult celebration for some disturbed individuals. It was enough to panic some parents and to prompt school officials to take extra precautions. "We were ready if something were going to happen," Mikel Stewart, superintendent of the Ste. Genevieve R2 School District, told The Herald last Friday. "Nothing did, although somehow, everybody seems to think differently." Stewart's assessment is correct. By Thursday afternoon of last week stories were circulating that schools in Ste. Genevieve had received bomb threats, that students had been arrested and led away in shackles, that dogs had been brought in to search for explosives and weapons, and that the schools would be closed on Friday. Both public and parochial schools fielded questions and speculation. Callers contacted Herald staff to try to get information. On Friday, attendance in the R2 district was down to eighty-something percent from its normal high-nineties level, and apparently some parents of parochial school students also kept their children home. In fact, the R2 District schools were on alert, and other local schools have been taking precautions against a possible violent episode for some time. Some weeks ago, after receiving a widely-circulated general warning about a potential shooting threat somewhere in the midwest, the Valle schools decided to begin locking the side street doors of the building. High school principal Sara Menard said at the time that the new policy "just seems like a commonsense thing to do." Stewart said district officials were sensitive to the possibility that the Columbine anniversary and other volatile dates might create some kind of problem, and took steps beyond the normal practices employed to keep the school environment safe. "We made certain that the local DARE officer was on the premises last week, just as a precaution," Stewart said. "We made sure his presence was known to students. And we also asked local police to increase their patrols around the schools." But according to Stewart and Valle High School principal Sara Menard, there were no incidents at any local schools that put any students at risk. "We had nothing," Menard said. "There were no threats of any kind. We had no notification from anybody that there might be. But there were rumors flying everywhere. We know that there are some kids who just like to stir things up. We think that's how it got started here." Stewart made similar comments. "We didn't have anything happen that was outside what is fairly normal," he said. "But the atmosphere was there and there are some people with a mentality that likes to hype this kind of thing. There was talk about some kind of e-mail threat. We tracked it down. There was no threat. There was no problem. It was all rumor." Stewart said there were three occurrences at the Ste. Genevieve campus that might have spurred rumors of danger. One happened about six weeks ago. School officials found "4-20" written on the wall in a restroom. While the graffiti had an eerie echo in terms of the date of the tragedy at Columbine, Stewart says the phrase is also known to be associated with the drug culture. He and others in the district think that was the meaning. All the same, school officials were on alert and zero-tolerance was the rule. A middle school student was caught on Thursday, making loud verbal threats against other students. The student was not armed and took no physical action. All the same, the offender was escorted from the school, sent home, and suspended for at least 10 days. He could face another 180-day suspension or even expulsion. On Friday, a third grade student was also sent home after a pocket knife with a one-and-a-half-inch blade was found in his gym bag. There was no indication that the student intended to use the knife. Action is pending in his case. "These really were not cases that were extremely unsual," Stewart said. "But parents and the community need to know that we take all such incidents very seriously. We want to err on the side of too much caution. "That's why we had a police presence during what might have been a volatile period. But there was nothing really going on except unfounded rumors. There was no reason not to conduct school as usual last week."



R2 School District Earns Highest Level Of State Accreditation
The Ste. Genevieve R2 School District has been recognized with the highest award presented by the Missouri Department of Elementary and Secondary Education--Accreditation with Distinction. The announcement came late last week at the April meeting of the State Board of Education. Fewer than 15 percent of all districts in the state have been tapped for the award. "We can all take great pride in this," Superintendent Mikel Stewart said. "We only know of two other schools in our general area that have achieved accreditation with distinction: Festus and the Nell Holcomb District near Cape Girardeau." R2's status was reviewed earlier this year, when a comprehensive evaluation of the district was conducted under the auspices of the Missouri School Improvement Program. The MSIP review process replaced the old method of accrediting schools as AA or AAA about 12 years ago. The R2 district was one of eight schools that went through the first MSIP evaluation as part of a pilot program. Later, the new, improved method of assessing schools was implemented statewide, using five-year cycles. R2 went through an MSIP review in 1996 and received "full accreditation," the highest level of recognition available at that time. Recently, the category of "accreditation with distinction" was added. The comprehensive review covers a wide range of factors, including student test scores, the attendance and dropout rate, school resources, course offerings, and extracurricular opportunities. Stewart said credit for the achievement goes to "all the persons involved in the district, including the school board, administration, teachers, staff and parent organizations, citizens, individual parents and students." He noted that recently-retired Earl Wilson, who was assistant superintendent until the end of last year, made a particularly valuable contribution. "Earl was the chairman of our MSIP committee and even continued in that role after he retired," Stewart said. "He wanted to see us through the evaluation process. "In addition, he was in charge of curriculum development for the district for a dozen or so years and he served on several major statewide curriculum committees. He's a real expert and played a very important role for us." Stewart said the honor is one that should have meaning for everyone in the community. "In practical terms, what it means to parents is that this school district is moving in right direction," he said. "We have taken strides to provide a wide offering of courses and keep the curriculum updated. We have a very qualified staff. "We try to address the needs of all our students. We offer special programs for at-risk kids to keep them in school and have one of the lower dropout rates in the state. We have programs for gifted children. Our vocational programs do extremely well in placing the students who complete them. Our students are doing well on MAP tests and their ACT scores, both as individuals and in terms of improvements for whole cohorts." Stewart says the school's accomplishments are the result of the cooperative efforts of parents and students, of community support for school district, including tax support, and of a strong staff of teachers and support staff. "We, as a school district and a community, have a commitment to do things that are right for the education of our students," Stewart said. "I am by no means saying there are not areas in which we want to make improvements, but we are striving every day, we have goals to achieve, and we are moving in the right direction. But right now, it's nice to take this moment to pause, reflect and enjoy this accomplishment."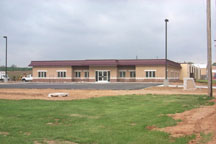 SGI Seeks Annexation Into City Of Ste. Genevieve
Ste. Genevieve Industries Inc. has petitioned the City of Ste. Genevieve for annexation into the city limits. Harold Gegg, president of the SGI board, appeared at a special city meeting on April 19 to begin the process. According to Gegg, the not-for-profit Ste. Genevieve County sheltered workshop facility on Industrial Drive has 96 employees, a payroll of about $750,000 per year, and annual sales of well over $2 million. "We don't pay much in the way of taxes, but we definitely can bring something to the city," Gegg said. Gegg said his organization wants to accomplish the annexation at the earliest possible date so that it can tap into the city water system. The sprinkler and fire control requirements of an almost-completed new addition to the facility have made it necessary for the facility to have higher water pressure than that available through its current connection to county public water lines. SGI is already hooked up to the city's sewer system. To prepare for the annexation SGI installed a 10-inch water line at its own expense, and also paid for a valve connection on the city's water line extension project. The 10-inch line can also be used by the city to serve other industries in the area. The board unanimously approved a resolution of intent to annex, but state law requires a 14-day notice period before a public hearing on the matter can be held. City Clerk Betty Seibel said the earliest date at which the issue can be raised will be May 10.






Ste. Gen Has Flood Protection For First Time In 2 Centuries
River towns along the Mississippi in Minnesota, Michigan, Iowa and Illinois are bracing for spring flooding. Television news shows are airing all-too-familiar pictures of sandbag operations and frantic levee building. Not here. Not this time. And maybe, never again. Crests above flood stage are already being predicted for St. Louis and Chester, the towns flanking Ste. Genevieve. But for the first time in more than two-and-a-half centuries, Ste. Genevieve has protection from the river--a $40-million, 3.5-mile-long, 21-to-28-foot-high structure designed to keep the mighty Mississippi at bay. Completed earlier this year, the levee has yet to be fully tested, although the pump station which handles creek water behind the structure has been sucessfully operated several times in the last few months. What hasn't happened yet is the closing of the giant gates at the north end and center of the levee. And even though the river may run rampant in the Upper Mississippi Valley, chances are those gates won't be shut as the predicted crest nears. On this occasion, the river's power is too little to warrant that action. According to Vern Bauman, president of the Joint Levee Commission and of Ste. Genevieve Levee District III, the big gates won't close unless the river reaches 35 feet, or about eight feet above the 27-foot flood stage mark for the town. "Of course, I can't say exactly what will happen," Bauman told The Herald last week. "The levee still belongs to the contractor. It hasn't been turned over to Levee District III yet. But the design calls for the closure gates to be shut when the river gets near the mid-30 foot mark in terms of flood stage, or about elevation 378. That probably isn't going to happen this time." Presently, weather experts are predicting a crest of about 29 feet feet at Chester on May 1, only slightly above Ste. Gen's flood stage. If that prediction changes and river levels threaten to pass the 35-foot mark, the gates will swing closed. And if all works as planned, even if the river keeps roaring, climbing to the record-busting heights recorded in 1993, most of Ste. Genevieve will stay high and dry. That will make history.



Fallert Hired By Holnam Company
A local businessman has been hired by Holnam Inc. to serve as a liaison for the company with the community. Holnam officials announced last week that Herb Fallert, owner of the Show Me Shop and other interests in Ste. Genevieve, has become a consultant for the firm that plans to build a cement plant in the north end of the county. Fallert is a former state representative and was a deputy director for the Missouri Division of Tourism before retiring to run businesses here. Barry Lower, head of Holnam's Lee Island Cement Plant operation, told The Herald last Friday that Fallert has been a resource for the company for many months. "We really value his opinion about what's going on in the community and we've sought his advice on a number of issues and on many occasions," Lower said of Fallert. "By the early part of this year, we realized that we were imposing on his time so much that it only seemed fair to reimburse him. He agreed to take a very small amount of money to defray his expenses." Lower said Fallert's connections in the state capitol were not a factor in his hiring. He said that while Fallert is highly-respected in Jefferson City, the company has been getting excellent cooperation in dealing with issues at the state level from elected officials presently representing this area. "We don't really feel we need him for that. What we are finding so valuable are his insights into and knowledge of the community and its history and background," Lower said. "That's something other members of our team might not have." Fallert told The Herald he's pleased to be associated with Holnam. "I'll be very glad if I can help bring the Lee Island project to a successful conclusion," Fallert said. "I'm doing work for Holnam, but I really see it as working for the people of this community in terms of bringing in jobs, development and investment. And we're lucky to be able to do that with a company that will take care of our environment. I think Holnam is going to be a very good corporate citizen." Fallert was recently elected to an aldermanic seat in the City of Ste. Genevieve. He and Lower both said they anticipate no instances in which Fallert's role with the company would create any kind of conflict of interest with his role as an elected city official.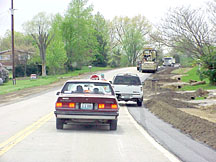 HOW SLOW WILL IT GO?
Construction work continues on Highway 32 west of Ste. Genevieve, with big equipment on the scene most days. The result? The kind of traffic jams locals usually only experience during periods of heavy agricultural activity or when every school bus in the county is on the road. And the work on 32 isn't the whole story. The Missouri Department of Transportation is involved in projects on Route DD from I-55 for approximately five miles, on Route I-55 from Highway 32 to the Jefferson County Line, and on I-55 at the Route O interchange. Some of the work will be completed by the end of this month. In other cases, county residents could still be "jammin'" until early summer.



May 3 Set For Prayer Day Event At Ste. Genevieve City Hall
The tenth annual "Meet at City Hall" prayer focus, sponsored by the American Family Association and the Ste. Genevieve Citizens for Life, is scheduled for Thursday, May 3, in conjunction with the National Day of Prayer. Last year, the event was observed by thousands of cities across the United States. About two dozen people gathered at Ste. Genevieve city hall. "Meet at City Hall is a project for a special prayerĐa prayer for moral rebirth in America," says organizer Kenny Williams. "We are expecting people of many different faiths to join together to pray at Ste. Genevieve City Hall." The event will take place from 12:20 p.m. to 12:40 p.m. Williams says this year's theme is "One Nation, Under God." For more information call Wil-liams at 543-2933.