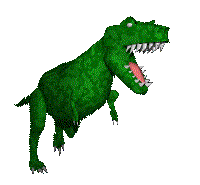 Dinosaurs Are Coming To Bloomsdale School
Get ready. They're on their way.
Dinosaurs are taking over the Bloomsdale Elementary School gym on Tuesday, September 26!
Dan Stone, a former teacher, is bringing his famous DINO DISCOVERY display to the school on that date.
You'll get to see a life-size model of a T-Rex...and maybe count its sharp teeth. Plus, you can see full-size models of a velociraptor and other dinos, and a model of the skull, tusks, jawbone and teeth of a mastodon, an animal that lived at the same time as the dinosaurs. There's even a chunk of fossilized dinosaur poop!
Altogether, there are 30 exciting models and displays that will help you learn about what life was like in the time of the dinosaurs.
School classes will get a chance to hear a program about dinosaurs, mastodons and other extinct creatures, during the day. Students from St. Agnes School and Small World Daycare will tour the exhibit, too. Then parents and friends can visit the display from 6 p.m. to 8 p.m.
Everyone will have a chance to buy great stuff like dinosaur bone, sharks' teeth, raptor claws, arrowheads, and rocks and stones in the Rock & Fossil Shoppe.
Don't miss DINOSAUR DAY at Bloomsdale School.
It's a one-in-a-million chance to get to know the fascinating
creatures that lived over a million years ago.