The Ste. Genevieve Herald Online is a capsule edition of the hardcopy Herald, published weekly in Ste. Genevieve, Missouri. See our subscription page for subscription rates for home delivery of the hardcopy Herald.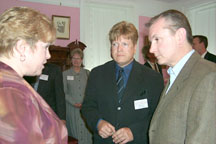 GOVERNOR IN TOWN
Governor Bob Holden was a guest at a cocktail reception held Saturday night in conjunction with the Missouri Preservation Conference, held in Ste. Genevieve last weekend. Here Holden chats with Ste. Genevieve Mayor Kathy Waltz and conference organizer Tim Conley. The reception was held at Conley's Old Academy home. It was sponsored by Holnam Inc. That company's CEO Paul Yhouse and other Holnam officials were also present.
Conference Drew Raves From Visitors, Including Gov. Holden
Ste. Genevieve put its best foot forward over the weekend. About 150 registered attendees and many more visitors attended the Missouri Preservation Annual Statewide Preservation Conference, including Missouri Governor Bob Holden. The event was hosted by Ste. Genevieve for the first time in 25 years. Participants, organizers and guests seemed to be unanimous in their praise for the conference. "It was absolutely fabulous," said Debbie Sheals, Missouri Preservation president. "It was a complete success. Not only were the sessions informative, but everyone had so much fun in the process." Debbie Baker, a Department of Natural Resources employee from Festus, agreed. "The speakers were tremendous," she said. "They were very knowledgeable and very well organized." Tim Conley, a member of the Missouri Preservation Board of Directors and the organizer of the conference said he believes the weekend event was the most successful ever mounted by the group. "There is no question it was the most successful conference we've ever given," Conley said. "Both educationally, and from the standpoint of it being a good time, it was just a huge success." That may, in part, have been due to a decision to make the conference one that ordinary people, interested in restoring or preserving historic buildings, could make a connection with. One of the most popular sessions featured local contractors Jim Beckerman, Dallen Rhymer and Dale Propst demonstrating techniques for repairing historic windows and bricks. "When I watched Jim in action, I realized he should really be on television, he has such an entertaining way of getting information across and obviously really knows his stuff," Conley said. "People just loved it; it was probably the most talked about class that we gave. As a board, we realized we needed more real hands-on classes like that." "I think we had a great cross section," Sheals said. "We had a little of everybody--a great mixture of members." The downtown historic district began to fill up on Friday, as conference guests rolled into town. Throughout the weekend, they were visible at local historic sites and businesses, as well as at conference events. The benefits to the City of Ste. Genevieve were obvious, and recognized by Mayor Kathy Waltz, who welcomed visitors at the opening session by saying, "We're delighted to open our city to you. We're delighted to share our town with you." Participants, who got to tour several historic homes not generally open to the public, seemed to enjoy their time in the city. "Everyone has always been so cordial here," DNR's Baker said. "It was really a spe-cial privilege to tour some of these houses." "The people here are so friendly," said Renae Farris of Columbia and a member of Southeast Missouri State University's first archeology field school here in 1997. "It was a real treat to go into the private homes. The owners were so gracious." Historic home owners who allowed conference attendees to tour their houses included Bill Lemir and Yvonne Tomich (Vital St. Gemme Beauvais House), Dr. Hilliard Goldman (Green Tree Tavern), Donna Charron (Bequette-Ribault House) and the Brooks family (William Brooks House, hosted by Beckerman). The National Society of Colonial Dames in the State of Missouri, meanwhile, offered free tours of the Linden House and Bolduc House Museum, while Jim Baker and the DNR staff gave free tours of the Felix Valle State Historic Site and the Amoureux House. The Bequette-Ribault House was also open to visitors. "It's a pleasure showing the house to this type of people," Lemir said. "They always make good comments and ask the right questions. They force you to think about significant stuff. As a result, we learn as much from them as they do from us." Missouri Governor Bob Holden also seemed to enjoy his visit, which included a dinner theater performance of George M. Cohen's "Yankee Doodle Dandy" by Cheryl Cooper's R-2 Gifted Class. The spirited rendition, with choreography and music direction by Jon Buffington, featured a cast of Amanda Coffman, Katie Ragan, Steven Johnson, Sean Phagan, Joe Bohnert, Long Huck, Emilie Kern, Mickey Stever, Marissa LaRose, Jason Picou, Derek Wehner, Courntey Golteman, Melissa Grimwood, Katie Carron, Marisa Vineyard, Chad Okenfuss, Abby Kern, Andy Vollersten and Dane Korenak in speaking rolls and dozens of others in various capacities. "The children from the R-2 musical were just an immense success," Conley said. "The governor insisted on shaking hands with very single child that had anything to do with the musical. He's going to invite them to perform in Jefferson City. He was very, very impressed. He said several times that of all the towns, his favorite one to come and visit is Ste. Genevieve. He's really into preservation in a big way. I've never known a public official so interested in history and houses and historic neighborhoods." Conley noted that Holden stayed "twice as long as planned," making him late for another speaking engagement and that he "clearly had a fantastic time." Visitors were treated all weekend to carefully selected hors d'oeuvres (by Chris Rottler of Colonial Thymes Restaurant), wines and beverages during the conference and the evening get-togethers. Conley noted that visitors were "blown away" by the food. "Everyone left here saying wonderful things about Ste. Genevieve. They didn' t dream we had stuff like this going for us," Conley said. "The key thing is it took a year of hard work to pull together a function like this and have it work. It took a year of careful planning and making sure every single item was of the best quality. The end result was enormously successful." Conley stressed that for a town of Ste. Genevieve's size not to look like "a bunch of country bumpkins" to a sophisticated statewide audience, this kind of planning and forethought is absolutely essential. So is local participation. "The Colonial Dames, city hall and most of the businesses in town worked together and what we pulled off was of such high quality that it left an incredible impression on visitors, who are some of the top ranking politicians and some of the leading people in the business community and society in Kansas City, St. Louis and other cities," he said. "This was a major, major breakthrough for the city of Ste. Genevieve. We made a lot of friends this weekend. I think we made people take a second look at who we are."
Plus, in this week's Herald...

Build Up's Hope Meadows Sold To Prevent Foreclosure

Rumors Prompt Parents To Keep Kids Home From School

SGI Wants To Be Annexed Into City